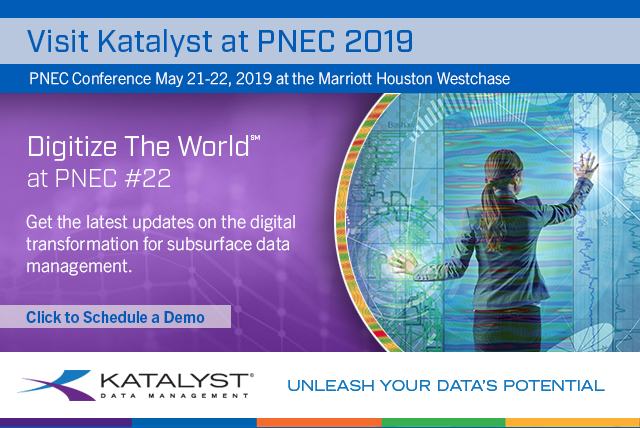 The Petroleum Networking Education Conference and Exhibition (PNEC) will be heavily focused on the digital transformation this year, a hot topic that is on the mind of many subsurface data managers in the oil and gas industry.  Katalyst Data Management is excited to participate as an exhibitor and service provider for the digital transformation for subsurface data management.   The annual PNEC Conference will take place on May 21-22 at the Marriott Houston Westchase.
Visit Katalyst at PNEC #22
Digital transformation begins with quality data and excellent subsurface data management practices and processes. Come visit Katalyst at PNEC booth 22 to learn more about how to improve and enhance your subsurface data management program to prepare for the digital revolution.  Our team will be on hand to demo the updates to our iGlass solution, with tools available to users who want to take their subsurface data management program to the next level in preparation for data analytics and artificial intelligence.
Whether you need to access your seismic and well data for interpretation, data analytics, data compliance or divestitures and acquisitions, the iGlass solution eliminates uncertainty and significantly reduces your time spent searching for your subsurface data.  The PPDM Gold Compliant iGlass database now manages over 40 petabytes of data.
As you can imagine, 40 petabytes is a lot of data.
140,000,000,000 pages
60,000,000 TIF images
65,400,000 boxes
75,000 semi-trucks of paper data
10,000 man-years of scan and name time (at 3 seconds/page)
Talk about big data! Consider the fuel cost and man power involved in moving and storing all of that information. The business value to transform all of this information into a digital format is tremendous, and well worth the investment. Today, this is a manual effort, since somebody actually has to look at the paper data to determine the best course of action, and then proceed to scan, sort and classify.
What oil and gas companies are facing today is the integration of paper to digits. Data comes in many formats, can be public or proprietary, structured or unstructured. Artificial intelligence integration can initially help classify this unstructured data into an organized manageable system. But that's just the beginning.
We are excited to see what developments will be revealed at the PNEC conference this year, with the E&P industry's new challenges in the digital transformation era.  If you would like to schedule some time at PNEC to view Katalyst's solutions for the digital transformation of subsurface data management, please contact us.