Katalyst partners with Amazon Web Services (AWS) to create map-based platform for selecting and downloading subsurface data
Katalyst Data Management recently created a proof of concept for a subsurface data search and order application for the OSDU Data Platform in partnership with Amazon Web Services (AWS).  The OSDU Forum is a group of oil and gas companies and services providers working together to develop a vendor-neutral, open data platform with the primary goal being to accelerate innovation and agility through digital collaboration.
Many oil and gas operators and service companies are just beginning their journey with the OSDU Data Platform.  Katalyst's journey began when we became a member of the OSDU Forum in February 2019.  At that point, Director of Research & Analytics Debasis Chatterjee was designated to spearhead the effort to devise a strategy to engage in development activities related to the OSDU Data Platform.  These included active participation in various work streams such as:
Seismic and well data loading
Entitlement and Obligations
Geomatics
Subsurface data quality
External data sources
During Q4 of 2020, Katalyst started to work with AWS and their implementation partner Pariveda Solutions, to create a proof of concept for searching and ordering subsurface data and deploy OSDU Data Platform release two (R2). The proof of concept lasted for six weeks, at which time Katalyst implemented a search and order workflow using a program portal. The Search and Order Portal sources from sample data loaded in a separate data partition over and above the standard datasets from OSDU Data Platform.
The Katalyst resources on this Search and Order Portal project included members of the development, QA, and data loading teams, along with senior business analysts and the CIO to ensure all stakeholder input and requirements were addressed.  The OSDU (R2) Data Platform is now open and available for public use.
"We are very excited by the initial developments from our R&D team, in partnership with AWS on the OSDU Data Platform for subsurface data," stated Steve Darnell, President and CEO of Katalyst Data Management. "Katalyst has invested significant resources and time to the vision of the OSDU Forum, as we believe it will prepare the subsurface data industry for a pace of innovation that has become the norm in recent years.  It's encouraging to see companies from all sides of the business coming together to invest their time and resources in open source software to benefit the entire industry."
Search and Order Portal – Wells
For the well domain, the Search and Order Portal allows users to search for wells in OSDU Data Platform by name, country, organization, etc. All of the wellbore locations also appear on the map and users can alternatively zoom in and draw a bounding box around the wells they wish to select.  Clicking on each wellbore displays more information about the master data wellbore.
The search results show the wellbore names with metadata that can be expanded to show the work product components associated with the wellbore, such as wellbore trajectory, marker information and well logs. For every work product component, users can download the corresponding files individually or they can select a group of files to be downloaded to a storage location in the cloud.  Subfolders are created with a unique signature and timestamp containing the data that has been ordered.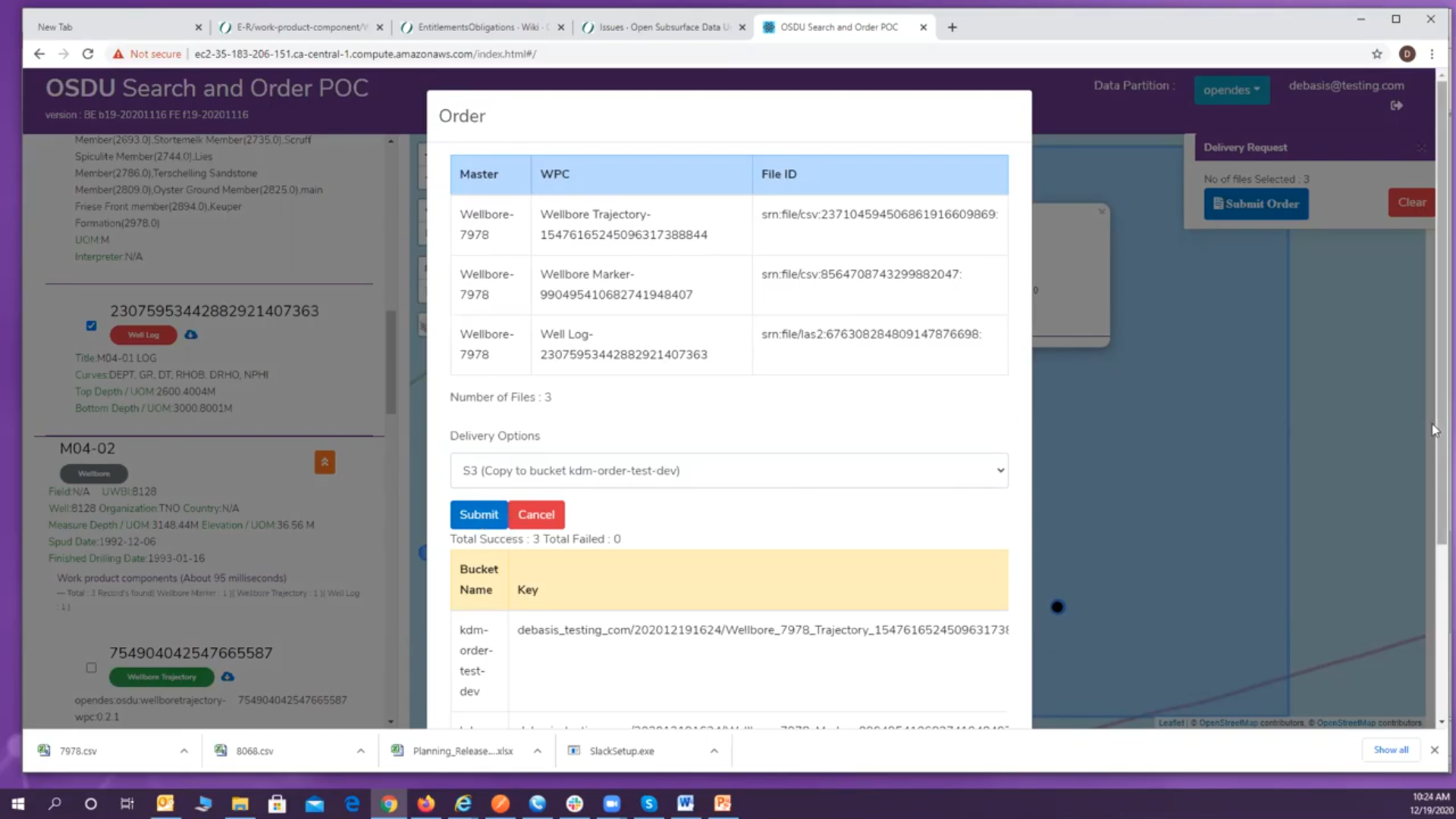 Search and Order Portal – 3D Seismic
Very similar to the well approach, 3D seismic data can be selected from OSDU Data Platform either via textual search or via bounding box on the map within the Search and Order interface.  For each 3D seismic survey(s) in the results, the search screen shows the associated work product components for the data, such as seismic trace data, document (ex: tape label information), velocity, etc.  The files related to these work product components can either be downloaded and viewed individually or can be selected as a group and be sent to a cloud directory as with the well data.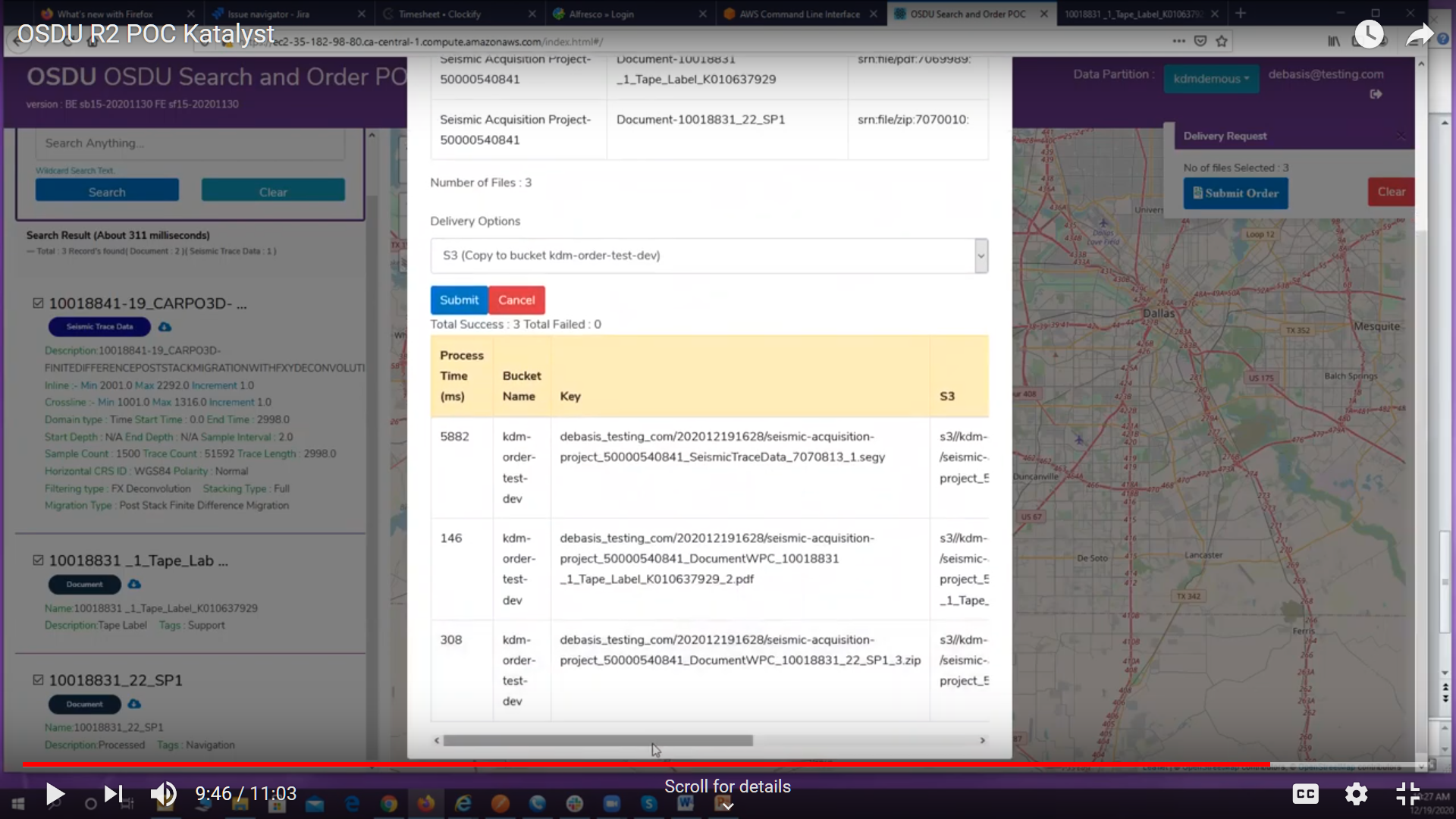 In early 2021, Katalyst plans to take stock of the progress and prepare for the enhancements required for the Search and Order Portal in release three (OSDU Data Platform R3), which will include 2D seismic data and other search features.
These Portal programs were developed using AWS, but it can easily be used on Google, Azure, IBM or any cloud service provider platform.
For more information or to see a demonstration of the Search and Order platform, please contact us.
Click here to read more about the AWS Implementation of the OSDU™ Data Platform Mercury Release to Fuel Sustainable Innovation. 
For more about the OSDU™ Forum, Click here.
OSDU™ and the OSDU logo are trademarks of The Open Group.