Get to know the faces that are working hard behind the scenes to unleash your data's potential.
We're pleased to feature a member of our data science team in our Face Behind the Data profile series, Vinay Murli, Chief Data Scientist. Vinay has had the unique experience of working for Katalyst Data Management for 16 years, through the transition from Kelman Technologies and Kelman Data Management to Katalyst.
Vinay is the second profile in our Face Behind the Data series, each of which features a subject matter expert (SME) for subsurface data management describing how in the world they ended up in this unique industry.
What is your educational and work experience background?
After graduating from the University of Texas at Austin in 2004 with a degree in physics, I started my professional career as a seismic data processor for Kelman Technologies in Calgary, Canada. Over the next several years, I processed data out of Kelman's offices in Calgary, London, Tripoli (Libya) and Oklahoma City.
In 2010, I was hired by Katalyst Data Management (at the time Kelman Data Management) initially as a seismic domain expert managing the team responsible for indexing and loading data into iGlass. Later, I transitioned into a client-facing role as manager of account services.
In my current role as chief data scientist, I get to draw upon experiences from all these past roles. In addition, I spend a lot of time reading, learning, training, watching videos and following various online data communities.
What are some of the highlights of your career?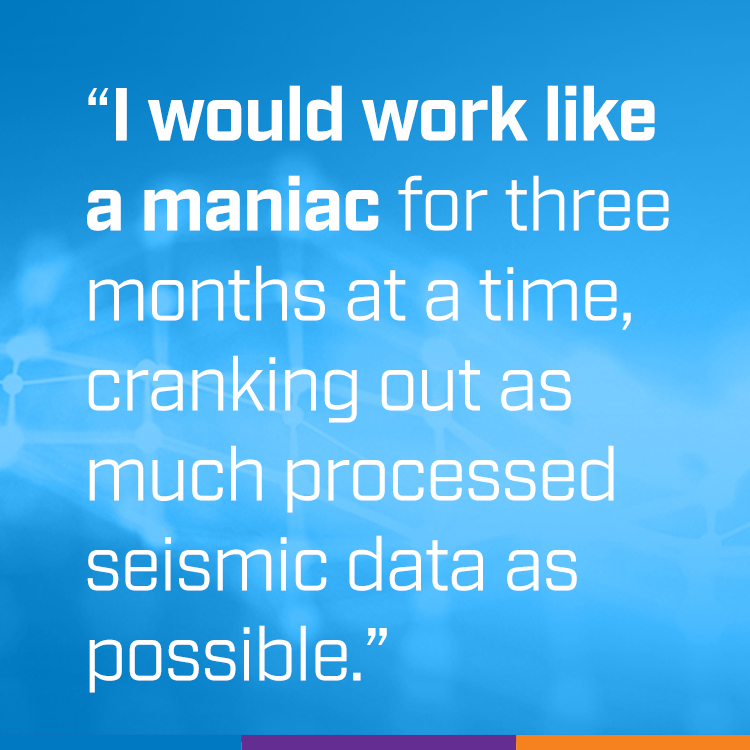 One of the highlights of my career was working internationally for Kelman in Tripoli (Libya) during 2006 and 2007. I was in my mid-20s. These international assignments involved 1-2 weeks in London to obtain a Libyan visa before arriving in Tripoli. I would work like a maniac for three months at a time, cranking out as much processed seismic data as possible. All of this work was offset by visits to serene Mediterranean beaches, lively markets and amazing North African Roman ruins.
I am hopeful that another highlight of my career might be what comes next – working with the Katalyst Data Science team and customers to build out Katalyst 360, a self-service analytics environment that integrates subsurface data from multiple sources into rich, colorful reports and dashboards. With the recent trends of high-volume subsurface digitization projects and the evolution of data culture in the subsurface data industry, I am optimistic that Katalyst 360 might help solve problems and create opportunities in the subsurface industry.
Did you grow up wanting to be a data manager?
Yes, absolutely! 100%. Didn't everyone?
How did you get here?
Here is a random under-the-radar anecdote:
Circa 2009, I watched a documentary about CAPTCHAs. They had started as a single squiggly word that users type to prove they are a human and not a computer, and they had evolved to include a second word that was a scanned image of text that humans were now digitizing en masse each time they typed it in (now generally known as crowd-sourcing). We were entering a new generation of CAPTCHAs where humans would now be training computers on how to digitize other scanned images.
My mind was blown, impressed, inspired and motivated.
Coincidentally, within a year I was working in subsurface data management and seeing CAPTCHA-like patterns everywhere. Now, a decade later, I am working directly in the data science space.
What are some big lessons learned and/or challenges faced along the way?
I was managing projects ad hoc and only loosely going through the motions of project management. As a result, instead of managing the projects, the projects were managing me and sometimes beating me up.
I came to the realization that I needed to learn project management by the book. So I read the Project Management Body of Knowledge (PMBOK), learned the methodologies and terminology, and obtained my Project Management Professional (PMP) Certificate.
Mistakes I had made in the past became evident, and then obvious, and then preventable, as I now had the proper toolkit available in my tool belt. I would highly recommend PMP Certification to anyone and everyone.
What advice do you have for people beginning their career?
This advice was given to me and I will pay it forward:
Wait for at least the next full decade of life to pass before sharing detailed stories about youthful indiscretions with coworkers. If you wait a decade, then people will assume you were just young and dumb. But if you share too soon, people will assume you are just dumb. So I'm waiting until I turn 40 before sharing all of the details from international assignments in my 20s.
Are there any organizations or volunteer groups that you are passionate about?
I am a member of the Professional Petroleum Data Management Association (PPDM) and Society of Exploration Geophysicists (SEG). I am passionate about data, efficiency and user-friendly technology. Right now, working on Katalyst 360 occupies all my bandwidth around these passions.
What are some of your favorite things to do and/or places to visit outside of work?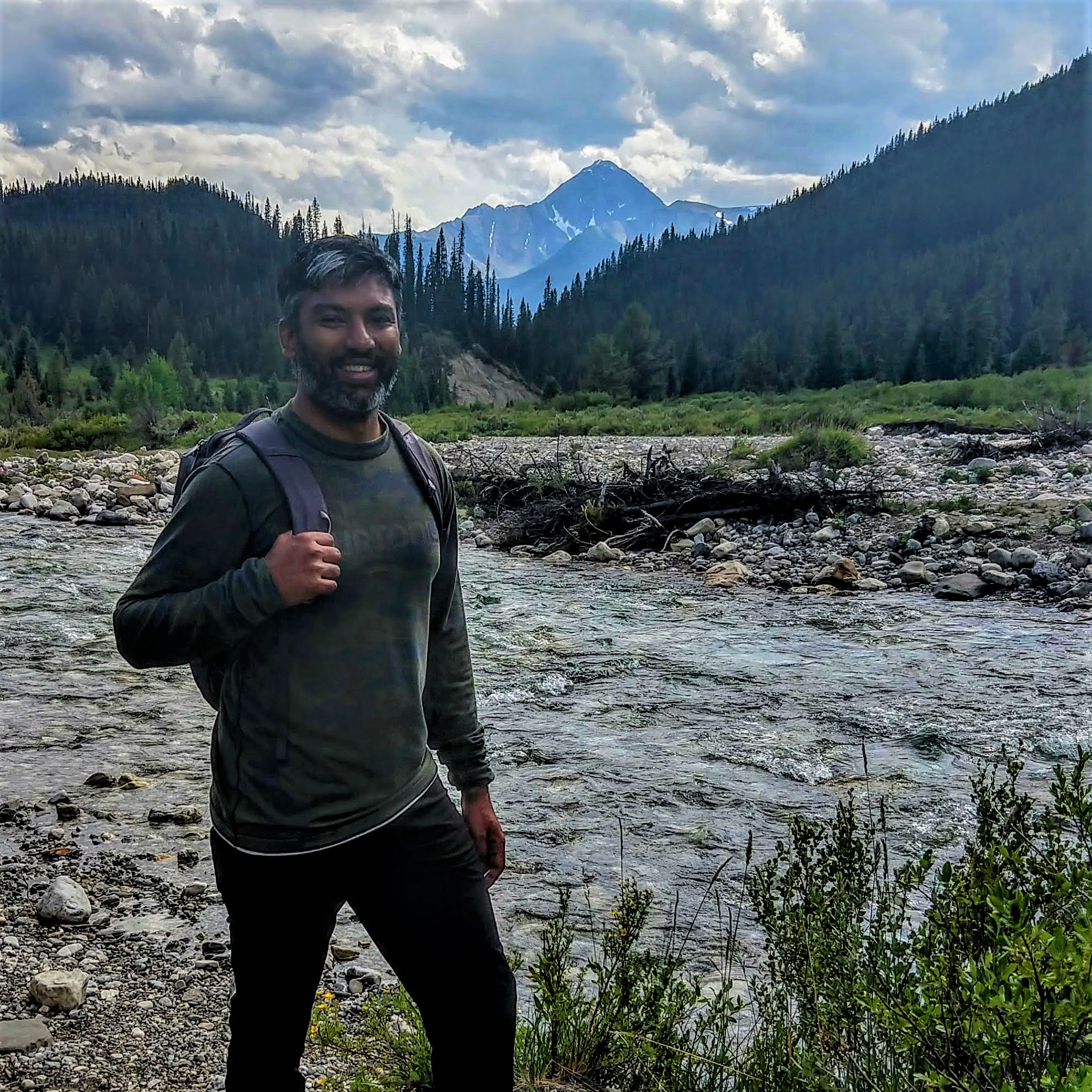 I enjoy outdoor activities such as golfing, snowboarding and hiking/biking.
I'm also an amateur multi-instrumentalist (guitar, bass, drums and trombone). The latest addition to the instrument collection is a keyboard – so I've been practicing and learning. In general, I am really a fan of practice, repetition, muscle memory and seeing the progress towards some satisfying outcome at the end.
When it comes to places to visit, I used to make it up to Banff, Alberta, once a year to ski and snowboard and am hoping to make this a regular trip again. But closer to Houston (where I live), my wife and I often visit New Orleans for spontaneous weekend getaways. As with everyone else, we are currently staying put, just taking it day-to-day to see how COVID plays out.
You can hear more from Mr. Murli by listening to his recent webinar featuring Katalyst 360, Data Analytics for Data Management: Unlock Subsurface Insights.